Word Therapy Answers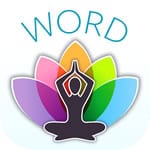 Word Therapy is released in the end of 2018. Developer of this game is Candywriter, LLC (company behind the Letter Soup game). It contains in game ads but still you will enjoy playing it. Until now January 2019 game has 2500 levels divided in 40 Categories and we have done a simple categorization for people searching answers on our website.
This categorization looks is similar to the game one. Game has IOS and Android versions which can be downloaded for free. You can find the word solutions for every level of Word Therapy on this website.
AVE ANSWERS1-25
PURITY ANSWERS1-25
CURIOSITY ANSWERS1-25
ENTHUSIASM ANSWERS1-25
INNOCIENCE ANSWERS1-25
VIGOR ANSWERS1-50
FOCUS ANSWERS1-50
LOVE ANSWERS1-50
ENDURANCE ANSWERS1-50
INDEPENDENCE ANSWERS1-50
IDEALISM ANSWERS1-50
INITIATIVE ANSWERS1-50
BEAUTY ANSWERS1-50
DILIGENCE ANSWERS1-50
JOYFULLNESS ANSWERS1-50
LOYALTY ANSWERS1-75
STRENGTH ANSWERS1-75
TRANQUILITY ANSWERS1-75
HOPE ANSWERS1-75
CHARISMA ANSWERS1-75
APPRECATION ANSWERS1-75
INTEGRITY ANSWERS1-75
PERSEVERANCE ANSWERS1-75
COURAGE ANSWERS1-75
HUMILITY ANSWERS1-75
PATIENCE ANSWERS1-75
HONOUR ANSWERS1-75
PEACEFULNESS ANSWERS1-75
GENEROSITY ANSWERS1-75
FORTITUDE ANSWERS1-75
SERENITY ANSWERS1-75
SIMPLICITY ANSWERS1-75
DIGNITY ANSWERS1-75
OPTIMISM ANSWERS1-75
DEVOTION ANSWERS1-75
MINDFULNESS ANSWERS1-75
GRATITUDE ANSWERS1-75
SATISFACTION ANSWERS1-75
COMPASSION ANSWERS1-75
WISDOM ANSWERS1-75