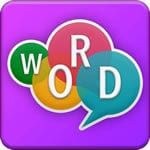 We have posted here Word Crossy Level 2868 Answers from category Balance. Word Crossy IOS version is launched on App Store on Aug 23, 2017 and on Sep 30, 2017 on Google Play Store, ago by a company with name: "Word Find". Word Crossy is a lovely relaxing game but just I wish I could play in landscape rather than portrait style and another annoying part of Word Crossy is the amount of ads they show while playing. However, Word Crossy game has more than 5 million downloads until June 2019 and it is one of my favorite games. This is the reason i have solved and posted the solutions for all the levels.
Scrambled letters are: HEAVING and Answers are: HEAVING, NAVE, GIVE, HIVE, VIA, GIVEN, VINE, NAIVE, GAIN, HAVE, VAIN, NIGH, VANE, VEIN, GAVE, HINGE, HAVEN, HAVING, HANG, VEGAN
.
You might need other answers and: Word Crossy Answers is the dedicated area of this game.