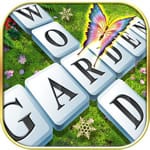 Here there are the answers for the latest game in Word category of Play Store. The name of this game is "Word Garden" and looks like it will be one of the top games in this category for year 2019. Even game developers are saying the same thing. This game will be number one in the next months. Aim of the game is to form words from given letters but the difference is that you should form words containing butterflies first. This way you will collect more coins. First level of this game contains 13 chapters and in total 200 levels. We have solved every single level of this game (was really fan) and we have posted all the answers and solutions on this website. Check below for the answers.
Word Garden Level 32 Answers for Letters: DOUBT
DOUBT, BOUT, BUD, DUB, BUT, TUB, DOT, OUT
Drop me a comment if you find any wrong answer. I can fix everything in less than 24 hours. Thank you.
If you want to go back to main game page than follow this link: Word Garden Answers