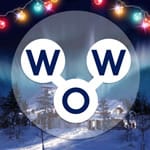 Welcome to our website. This section of website is dedicated to Words of Wonders Daily Puzzle Answers or WoW Daily Puzzle Answers. Words of Wonders is a mobile device game developed by Fugo. It is one of the top games of 2018 and is very addictive. Here you will find Words of Wonders March, 06 Answers. As you might know there are horizontal and vertical words and there are even extra words on the daily puzzles.
This specific daily puzzle contains 16 hidden words and we have solved and posted all word solutions below alongside with the extra words.
Horizontal Words:
EXAMPLE, LAME, PEEL, EXAM, MEAL, PEE, LAP, PAL, EEL
Vertical Words:
AMPLE, MAPLE, PALE, PLEA, LEAP, MALE, LAMP
Extra Words:
PEA, AXE, APE, MAP, PALM, AMP, MAX, ALE, LEE, APEX, LAM, AXLE, ELM, LAX, EXP, LEA, AXEL, EXPEL, PAM, LEX, PAX, PELE, EMP, PLEX, ALP, ELEM, PEAL, ALEE, EXEMPLA, ALME, EME, MAE, MEL, EMPALE
Go back to Words of Wonders Daily Answers for full list of solutions.