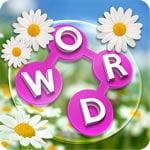 Welcome to Daily Word Solutions website. We are posting here Wordscapes in Bloom Daily Puzzle Answers. We solved all 3500 levels of Wordscapes in Bloom in December 2018 and we are posting now here daily puzzle answers. Wordscapes in Bloom is a game developed from PeopleFun, one of the best Word Game developer studios of 2018-2019. Is one of their best games totaling more than 1 million of installs only on android devices (January 2019).
You will be able to play with daily puzzles after completing level 15 of game. Do not forget to connect game with facebook to save your progress. HINT: If you uninstall the game without connecting to facebook you will lose all your progress
Wordscapes in Bloom May 26 Answers & Solutions for the hint: NEKOMY.
KEY, MEN, ONE, YEN, YON, MONK, OMEN, YOKE, MONEY, MONKEY
If you need answers for other dates then you should follow this link: Wordscapes In Bloom Daily Answers